Looking for the best place to stay in the Sukhumvit area during your Bangkok trip? You're in the right place! Sukhumvit, a lively highway that runs through Bangkok, offers easy access to public transportation, making it an ideal location for tourists.
Sukhumvit is known for its vibrant nightlife, dining options, supermalls, and shopping, making it perfect for everyone.
In this article, I will provide you with the 10 best areas to stay in Sukhumvit based on your travel preferences.
With my experience as a Bangkok resident for over 8 years, I have visited these areas numerous times, giving you first-hand knowledge and expertise.
What are the best areas to stay in Sukhumvit?
The best areas to stay in Sukhumvit include Asoke, Phrom Phong, Thonglor, Ekkamai, Phloen Chit, Chit Lom, On Nut, Phra Khanong, Nana, and Siam. These areas offer a vibrant mix of entertainment, shopping, dining options, accommodations, and convenient transportation access.
| | |
| --- | --- |
| Best areas in Sukhumvit | Why it's the best |
| Asoke | Asoke is the best for its central location, excellent transport links, diverse accommodations, and proximity to popular shopping and attractions. |
| Phrom Phong | Indulge in a sophisticated atmosphere with upscale shopping malls, fine dining options, luxury hotels, and easy access to beautiful parks in Phrom Phong. |
| Thonglor | Enjoy a trendy and cosmopolitan ambiance with chic cafes, fashionable boutiques, buzzing nightlife, and a vibrant social scene in Thonglor. |
| Ekkamai | Discover hip cafes, diverse dining options, unique boutiques, and a lively nightlife in Ekkamai for an unforgettable Sukhumvit experience. |
| Phloen Chit | Indulge in luxury with upscale malls, refined dining, prestigious accommodations, and proximity to tranquil Lumpini Park in Phloen Chit. |
| Chit Lom | Experience high-end shopping, exquisite dining, upscale hotels, and prime location in Chit Lom, ensuring a luxurious and convenient Sukhumvit stay. |
| On Nut | Explore affordability with budget-friendly accommodations, vibrant local |
| Phra Khanong | Immerse yourself in affordability and local charm with budget accommodations, authentic street food, glimpses of local life, and modern amenities in Phra Khanong. |
| Nana | Discover vibrant nightlife, bustling bars, entertainment venues, and international dining options in Nana for an exciting Sukhumvit experience. |
| Siam | Experience the vibrant atmosphere, world-class shopping, cultural landmarks, and international dining in Siam, a top choice for a memorable Sukhumvit stay. |
Let's learn more about each area in detail, including the pros and cons.
1. Asoke
Asoke is notorious for its nightlife, particularly Soi Cowboy featured in Holywood movies such as The Hangover Part 2, in which many single men flock to find a partner.
However, Asoke is more than just a party spot. It is a popular area for tourists and expats alike because of its central location in Bangkok's commercial and leisure district, offering a wide range of hotel options catering to every budget.
Tourists can visit Terminal 21, a famous shopping mall in Asoke, with an airport-themed design that features numerous local and international brands.
The newly renovated Benjakitti Park, just a short walk from the mall, is a great escape from Bangkok's busy streets.
Of course, Asoke is also known for its nightlife with popular bars and speakeasies, including bars like WHISGARS and Brewski.
Asoke is an ideal location as it has MRT and BTS stations providing easy access to various parts of the city.
Pros and cons of staying in Asoke
Pros:
Transport: Convenient location for public transportation with easy access to MRT and BTS train systems
Accommodation: Wide range of hotel options to suit various budgets, from boutique to luxury
Nightlife: An abundance of restaurants and bars for a vibrant nightlife scene
Green space: Proximity to one of the largest parks in Bangkok
Cons:
Crowded: Can be overcrowded, especially during peak hours, due to its central location and transportation hub status
Families: Attracts individuals seeking the red light district, making it unsuitable for families
Affordability: Hotel prices tend to be higher compared to other areas in the city, such as On Nut or Phra Khanong
2. Phrom Phong
Phrom Phong is renowned for its luxurious shopping malls, making it a great location to stay for shopping in the heart of the city, away from the bustling nightlife areas of Asoke.
With various shopping, dining, and entertainment options available, Phrom Phong particularly appeals to those who love the finer things in life.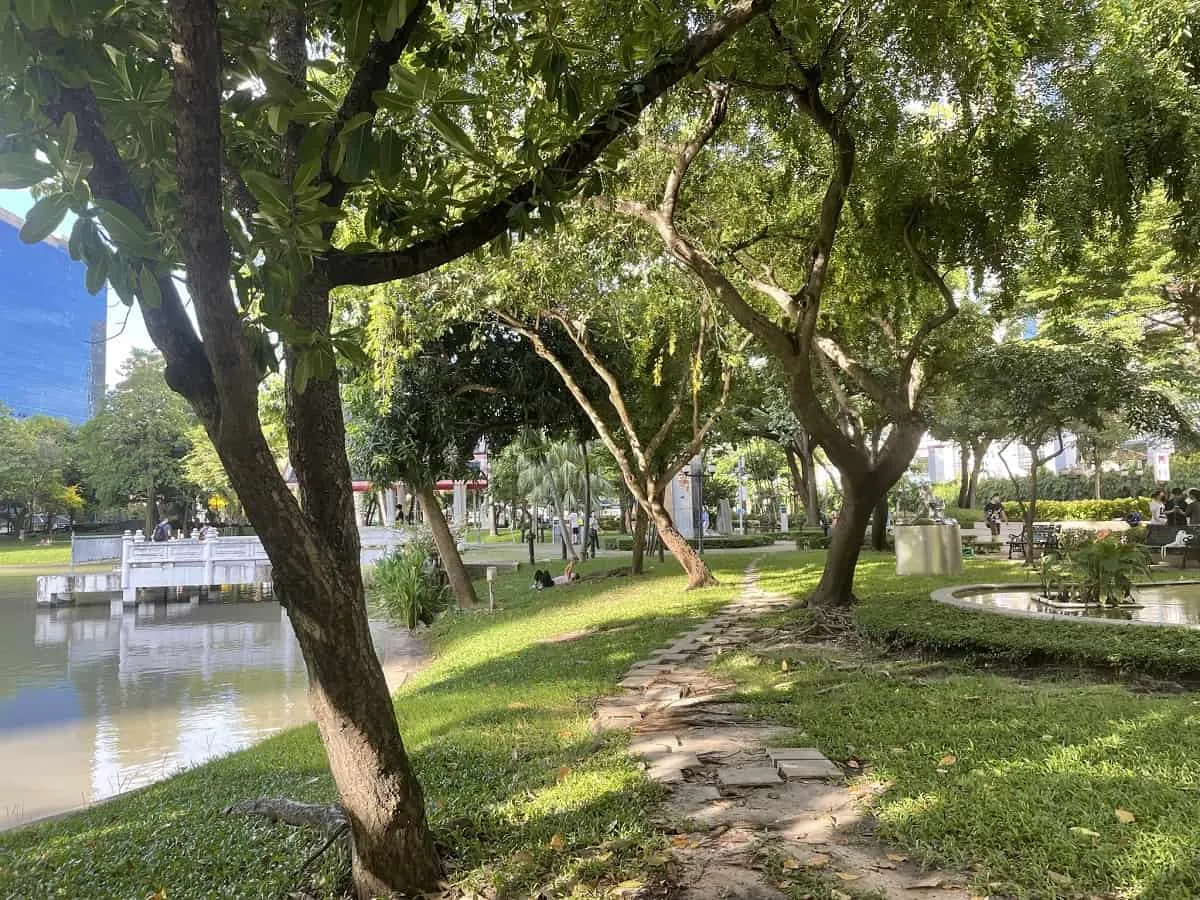 The area boasts several upscale shopping malls from the M Group, including EmQuartier, Emporium, and the upcoming Emsphere.
While Phrom Phong does have a range of nightlife options, from Irish pubs to rooftop bars, those who prefer a more peaceful atmosphere can enjoy the popular Benjasiri Park, a small multi-purpose park with ball courts, a skateboard park, and a lake filled with turtles.
Additionally, Phrom Phong is well-connected to the rest of Bangkok via the BTS station and numerous taxis available outside the supermalls.
Pros and cons of staying in Phrom Phong
Pros:
Transport: Excellent access to the BTS Skytrain system with the Phrom Phong station located nearby
Shopping: An abundance of shopping, dining, and entertainment options are available
Green spaces: A peaceful retreat in the form of Benjasiri Park situated within walking distance of the BTS station
Accommodation: A wide range of accommodation options are available, from luxurious hotels to quaint boutique hotels
Cons:
Affordability: The central location results in higher hotel prices compared to other areas along Sukhumvit
Crowded: Can get crowded during rush hour due to heavy traffic and people commuting to and from work
Culture: Modern area of Bangkok which lacks the traditional ways of life you'd find in locations like Chinatown
3. Thonglor
Thonglor is a chic and trendy area of Bangkok that appeals to younger crowds. The district boasts a vibrant nightlife, especially during weekends when locals come out to relax and have fun.
You can find a diverse range of nightlife options in Thonglor, including laid-back beer gardens and sophisticated cocktail bars.
Getting to Thonglor is easy, thanks to its well-connected BTS station, Thonglor station. This provides quick and convenient access to/from other parts of the city.
Foodies will also love Thonglor, as there are many fantastic dining options catering to different tastes, from Thai and Japanese to international cuisine.
While shopping in Thonglor, you will not find any giant supermalls, but there are plenty of independent and locally-owned stores and several community malls in the area that offer unique shopping experiences.
Pros and cons of staying in Thonglor
Pros:
Nightlife: Thonglor is a great area for nightlife with a wide range of options for restaurants, bars, and clubs
Shopping: The area has lots of choices for hipster cafes and community mall
Quiet: It is a quieter area compared to Asoke and Phrom Phong
Transport: The BTS Skytrain provides great connectivity with the rest of the city
Cons:
Green spaces: The area has no parks, so the nearest park (Benjasiri Park) requires taking the BTS.
Affordability: Hotel accommodation is more expensive compared to other areas along Sukhumvit.
Crowded: The main road on Thonglor can have heavy traffic, especially during the weekend when many locals visit the bars and clubs
4. Ekkamai
Ekkamai is a residential area in Bangkok that provides easy access to other parts of the city via the Ekkamai BTS station.
For tourists who prefer to be near the nightlife area but away from the bustling bars, restaurants, and clubs, Ekkamai is a great option as it is located close to Thonglor.
Additionally, Gateway Ekamai mall, located next to the BTS station, offers a mix of international shopping and dining experiences. Hotels, restaurants, and cafes such as Ink & Lion are also available along Ekkamai Road.
If you're looking for evening entertainment, you can easily take a five-minute taxi ride or one BTS stop to Thong Lor.
Furthermore, tourists interested in visiting temples can head to Wat That Thong, a local temple located next to the Ekkamai BTS station.
Pros and cons of staying in Ekkamai
Pros:
Quiet: Ekkamai is a quieter area compared to Asoke, Phrom Phong, and Thonglor
Dining: There are plenty of dining options available in Ekkamai, including restaurants at Gateway Ekkamai mall and along Ekkamai road
Transport: Ekkamai is in a great location, with access to the BTS and only 1-3 stops away from more popular tourist areas like Asoke
Affordability: Accommodation in Ekkamai is generally less expensive than in more upscale areas
Cons:
Crowded: Traffic along Ekkamai Road can get very busy, especially during peak hours and weekends
Nightlife: There are fewer entertainment venues in Ekkamai compared to areas like Thonglor or Phrom Phong
5. Phloen Chit
Phloen Chit is a business and shopping district located between Nana and Chit Lom along Sukhumvit Road.
This area is home to high-end shopping malls such as Central Embassy, Central Chidlom, and All Seasons Place. Additionally, Phloen Chit boasts luxury five-star hotels, including Rosewood Bangkok and Park Hyatt Bangkok.
Compared to other areas such as Siam or Asoke, Phloen Chit is generally a quieter and more upscale area, making it an excellent location for those looking for a more peaceful experience.
When it comes to dining, there are many options to choose from, including Gianni Ristorante Italian and The House of Smooth Curry Thai cuisine.
Phloen Chit has its own BTS station, making it easily accessible from other parts of Sukhumvit and only a few stops from popular areas like Asoke.
The closest park to Phloen Chit is Lumpini Park, the largest park in Bangkok and a perfect spot to escape the city.
While Phloen Chit is not known for its nightlife, there are still a few spots to check out, such as personal favorites Dee Lounge and Beer Garden, and Diplomat Bar cocktail bar.
Pros and cons of staying in Phloen Chit
Pros:
Location: Located conveniently in between the bustling nightlife area of Nana and the shopping district of Chit Lom, with easy access to the rest of the city via the BTS
Shopping: Offers upscale shopping and dining experiences, including some of the most luxurious malls in Bangkok
Green spaces: Although there is no park directly next to the BTS station, Lumpini Park is within walking distance
Dining: Provides a large selection of dining options to choose from
Street food: Lots of street food options because the areas has a lot of businesses with workers collecting their afternoon lunch
Cons:
Affordability: Accommodation in the area tends to be more expensive, with mostly luxury hotels and limited budget options available
Crowded: The area can get very busy, especially on the roads during peak hours
Nightlife: Offers limited nightlife options when compared to areas such as Nana or Thonglor
6. Chit Lom
Chit Lom is the most central area of Sukhumvit, offering a variety of shopping experiences ranging from budget to luxury.
It boasts many shopping malls, including the famous CentralWorld, Gaysorn Village, Central Chidlom, and The Platinum Fashion Mall.
In addition, Chit Lom is home to cultural attractions such as the Erawan Shrine, a Hindu shrine where many tourists from around Asia come to pray. Another attraction is Wat Pathum Wanaram Rachaworawihan, a centrally located Buddhist temple uniquely surrounded by super malls.
Tourists looking to be in the heart of Bangkok with shopping, dining, and accommodation options should consider staying in Chit Lom.
Chit Lom also has its own BTS station, providing connections around the city. The closest park to Chit Lom is Lumphini Park, which is a 20-minute walk from CentralWorld.
Pros and cons of staying in Chit Lom
Pros:
Street food: Chit Lom offers a wide variety of street food options due to the area's popularity among office workers and tourists
Dining: There are unlimited dining options in Chit Lom, featuring every cuisine imaginable
Shopping: Chit Lom has endless shopping options from mega malls to boutique shops
Nightlife: Chit Lom is a popular spot for office workers to relax after a long work week at locations like Groove
Cultural: There are several cultural attractions in the area, including temples and shrines such as the famous Erawan Shrine
Cons:
Crowded: Chit Lom is one of the busiest areas in Bangkok, with shoppers flocking there on weekends and office workers during the week
Affordability: Accommodation in this area is generally more expensive than other areas of Sukhumvit due to its central location
7. On Nut
On Nut is a popular area for tourists and expats to stay in Bangkok. It is an affordable accommodation option that is still central with easy access to the rest of the city.
Located between Phra Khanong and Bang Chak areas east of the city, On Nut is still within reach of more popular sites via its direct connection with the BTS Skytrain. For example, Asoke is only 5 BTS stops away, around a 10-minute ride.
Many hotel accommodation options are available in the area to meet every budget.
If you prefer a more local way of living, On Nut has more street food options than in other areas.
Although not centrally located, shopping options include Century On-Nut People Park Community Mall and Habito Mall are still available in the area.
The area also has more affordable dining options with restaurants to meet every budget, including personal favorites like FOOD UNIVERSE – Century Onnut and Greenhouse Restaurant & Terrace.
Unfortunately, there are not many green spaces in On Nut, with the closest being Benchasiri Park accessible by BTS.
Pros and cons of staying in On Nut
Pros:
Affordable: On Nut offers more affordable accommodation and dining options compared to other areas in Sukhumvit
Transport: The area provides easy access to the rest of the city through the BTS Skytrain
Street food: There are many local street food options to choose from in On Nut
Cons:
Crowded: The area is mainly residential and can get very busy during peak hours
Green spaces: There are limited green spaces and parks in On Nut
Nightlife: On Nut has limited nightlife options available
8. Phra Khanong
Phra Khanong is a vibrant and affordable residential and leisure area located east of Bangkok, between Ekamai and On Nut, and easily accessible via Sukhumvit road.
The area is a favorite among tourists and expats due to its affordable accommodation options, ranging from hostels to budget and chain hotels.
A popular community mall in the area is Summer Hill, located directly next to the BTS station. It houses a coffee shop, a mini-mart, and a second-hand shop called Treasure Factory.
Additionally, many of the streets, or sois, around Phra Khanong offer a glimpse into local life, including traditional Thai cuisine and coffee shops.
The Phra Khanong open produce market is also popular with locals collecting wholesale wares for their businesses.
For those looking for some outdoor fun, the area has plenty to offer. Popular activities include the 42 Tee-Off Driving Range and W District, an outdoor food and beer garden.
Phra Khanong has its own BTS station, making getting around Bangkok via the Skytrain easy. Ekkamai and Thong Lor are just one or two stops away.
Phra Khanong is also known for its nightlife. A personal favorite is W District, which boasts numerous bars and restaurants, including the famous rooftop bar Cielo.
Pros and cons of staying in Phra Khanong
Pros:
Affordability: The accommodation in Phra Khanong is more affordable than in more upscale central areas of Sukhumvit
Transport: Phra Khanong is well-connected to other parts of Bangkok via the BTS Skytrain
Street food: W District is an excellent place for tourists to sample Thai and international street food
Cons:
Limited dining: Phra Khanong has fewer restaurant options than other Sukhumvit areas
Crowded: This area is mainly residential, so it can get busy during peak hours
Green spaces: Phra Khanong has limited green spaces, with the closest requiring a BTS or taxi ride
9. Nana
Nana is a popular district in Bangkok, especially known for its nightlife. Its notorious sois are full of bars and adult entertainment venues, attracting tourists and expats alike.
However, Nana has other charms, such as its wide variety of Indian cuisine options, including Amritsr Restaurant and Charcoal Tandoor Grill & Mixology.
Nana is particularly popular with Indian tourists and visitors from the Middle East, with the area catering to their every need with services such as tailors and halal restaurants.
Additionally, Nana has a large selection of generally cheaper hotels than those found in Asoke or Chit Lom.
If you are looking for a more upscale nightlife experience, Nana has cocktail bars such as Above Eleven and Havana Social.
Although the area has limited green spaces, Benchakitti Park is a newly renovated park within a 20-minute walk from Nana BTS station or even closer if you take the train to Asoke.
Pros and cons of staying in Nana
Pros:
Dining: Nana is one of the best areas in Sukhumvit for finding various Indian and Middle Eastern foods
Transport: Situated between Asoke and Phloen Chit, Nana offers great access to other parts of the city via the BTS
Accommodation: Visitors to Nana can choose from a wide selection of chain and boutique hotels
Cons:
Not family-friendly: Nana's red-light district means that it is not particularly family-friendly
Crowded: Nana can get very busy, especially on weekends when party-goers flock to the area to drink the night away
10. Siam
Siam is a popular area located just off Sukhumvit. It is an excellent area for tourists wanting to be in the heart of Bangkok, taking in all its sights and sounds with super malls, outdoor performances, and endless dining options.
The area is next to Chit Lom, a shopping district with major malls and shopping areas including Siam Paragon, Siam Square One, Siam Center, and Siam Discovery.
Although not the most authentic part of town with its luxury malls and modern buildings, Siam has a lively charm with locals enjoying live music in Siam Square and an outdoor walking shopping street (rare in Bangkok).
In Siam, visitors can experience art and culture with the Bangkok Art and Culture Centre and the Jim Thompson Museum within walking distance of the BTS station.
Siam is also home to some luxury 5-star hotels, including the Siam Kempinski Hotel Bangkok.
Siam is connected to the rest of the city via the BTS Skytrain, with connections along Bangkok's Sukhumvit and Silom lines.
Unfortunately, few green spaces exist in Siam, but Lumphini Park can be accessed easily via the Silom BTS line.
Entertainment options in Siam include to name a few an IMAX cinema, SEA LIFE Bangkok Ocean World aquarium, and Blu-O Rhythm & Bowling.
Pros and cons of staying in Siam
Pros:
Shopping: Siam offers a plethora of shopping options, from malls to outdoor markets and walking streets, making it one of the best areas to stay in Sukhumvit for those who love to shop
Transport: Situated on Sukhumvit, Siam enjoys a prime location with convenient access to both the Sukhumvit and Silom areas via the BTS Skytrain
Entertainment: There is never a dull moment in Siam, with numerous entertainment options, including cinemas, outdoor performances, and more
Cons:
Crowded: Siam is bustling with activity every day of the week, attracting shoppers, tourists, and expats alike for food, entertainment, and shopping. It can get quite busy and overwhelming, especially during peak times
Green spaces: Parks are limited in Siam, with the nearest being Lumphini Park, which can be accessed easily by the BTS Skytrain
Before you go…
Are you planning a trip to Bangkok and looking for a vibrant nightlife scene? Look no further! I have written an in-depth article on the best areas in Bangkok that will cater to all your nightlife needs.
Related articles: