Are you planning your next big adventure to Thailand? Navigating a new country or city can be challenging. Thankfully, there are plenty of helpful mobile apps available in Thailand to aid you with transport, accommodation, attractions, and food options.
Let's dive into some recommended apps you'll need when visiting Thailand:
Read on to learn more about each app.
Google Maps
Google Maps is a must-have for navigating Thailand with real-time traffic updates, street view, and finding various transport options for your route. As well as planning your route with the various transport options available in Thailand.
Google Maps is great for finding local restaurants, attractions, and hotels within your area. Plan your trip early by placing pins on the desired places you want to visit.
Download my Google Bangkok Map with recommended tourist attractions, things to do, main transport hubs, and other landmarks.
Rating: 4.7/5
Recommended for:
Travel
Finding places to go
Google Translate
Did you know? Only 27% of people in Thailand can speak English. The Google Translate app helps translate Thai when encountering a language barrier.
The app has easy-to-use features like text, speech, and image translation. So if you get to a local street food restaurant and find the menu is in Thai, use the app to take a snap of the menu then it can translate into your native language.
Off the beaten track? Google Translate has language packs that can be pre-downloaded for offline usage.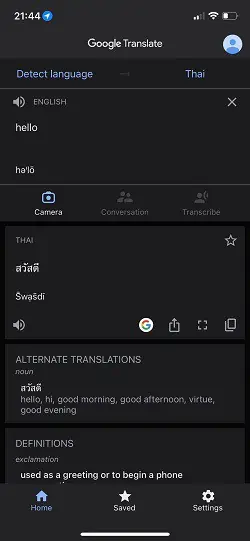 Rating: 4.4/5
Recommended for:
Also, check out my article on helpful Thai phrases for your travels in Thailand.
Agoda
Agoda is a popular travel booking app offering various accommodation options, flights, and activities. Agoda offers excellent rates within the Asian region and is Thailand's most used hotel booking platform.
Agoda offers special localized promotions, coupons, and VIP status discounts for members who use the platform regularly.
Check my in-depth article on why Agoda is legit, safe, and reliable.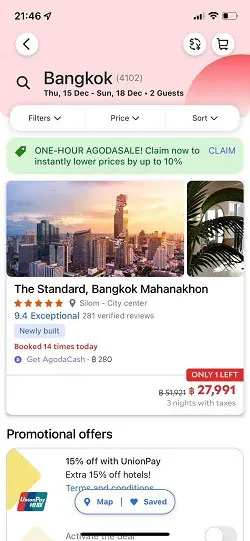 Rating: 4.8/5
Recommended for:
Booking hotels, especially in the Asian region
Booking.com
The biggest hotel platform with over 27 million properties Booking.com, is an excellent app for finding accommodation in and around Thailand. As well as hotels, you can also book flights, car rentals, attractions, and private taxis through the app.
The app has advanced hotel filtering, verified guest reviews, and 24-hour support.
Check my in-depth article on why Booking.com is legit, safe, and reliable.
Rating: 4.8/5
Recommended for:
Booking hotels,
Comparing hotel prices with Agoda
Skyscanner
Compare flights from global airlines as well as Asian-based carriers. Use the rates provided in the booking calendar to find the cheapest dates to fly.
Skyscanner also offers accommodation, car rentals, and flight price tracking.
Rating: 4.8/5
Recommended for:
Grab
Do you use Uber? Grab is the alternative to Uber in Asia, providing ride-hailing services and food delivery.
Use cash or a credit card to pay for a taxi or private car by booking through one of Thailand's most popular super app.
Rating: 4.9/5
Recommended for:
Bolt
Compare transport rates against Grab by using the Bolt app. Although available in fewer regions, Bolt is generally cheaper than Grab for taxi and private car transport.
In-app safety features include ride share, an onboard emergency button, and customer-rated drivers. Cash is the only payment method unless you have a local bank account.
Rating: 4.9/5
Recommended for:
Transport
Compare rates against Grab
Foodpanda
Food Panda is a food delivery app with countless food categories available in major cities around Thailand.
In-app features of Food Panda include tracking your delivery, communicating with the driver, and delivery time estimate.
Rating: 4.5/5
Recommended for:
Klook
Pre-book attractions around Thailand with Klook and get special discounts or skip queues. Order a Rabbit Card for BTS Skytrain transport, then pick up the card when you arrive in Bangkok to avoid queuing at BTS ticket stations.
The Klook app also offers accommodation booking, charters, airport transport, and food experiences.
Check my in-depth article on why I recommended Klook as legit, safe, and reliable.
Rating: 4.7/5
Recommended for:
XE
Get on-demand exchange rates when traveling and check the Thailand currency rates against your home currency when visiting Thailand. Get currency conversion rate alerts and view historical currency data.
XE also offers a money transfer service to avoid getting overcharged through hidden bank fees when transferring money abroad.
Rating: 4.3/5
Recommended for:
Checking currency conversion rates
Wise (Transferwise)
Get cheaper currency exchange rates compared to banks when using the Wise app, which supports 50+ currencies. Sign up for an account and get a virtual UK, EU, or US bank account to get a borderless bank account for international travel.
Wise also offers an ATM card in specific regions which you can use abroad to avoid hidden international fees.
Rating: 4.6/5
Recommended for:
LINE
The alternative to Whatsapp in Thailand is LINE, a communication platform that supports text messages, voice, and group chat. LINE is excellent if you want to chat with Thai friends or signup for local services.
Link your Rabbit Card with Rabbit LINE Pay so you can use your Rabbit top-up Card to pay for meals.
Rating: 3.5/5
Recommended for:
AirVisual
Thailand has an air quality issue in certain regions within specific months of the year. To track the pollution in your area, download AirVisal which provides accurate air quality measures and gives recommendations on wearing masks and outdoor activity based on pollution rates.
Other features include tracking your pollution exposure throughout the day and 7-day pollution forecasts in the local region.
Rating: 4.8/5
Recommended for:
ExpressVPN
Secure your devices using public WIFI through a VPN like ExpressVPN, which has VPN servers in up to 90+ counties and offers a 7-day trial.
Rating: 4.7/5
Recommended for:
Internet security and privacy
NordVPN
With VPN servers in 60+ counties, NordVPN is a cheaper alternative to secure internet usage while traveling abroad.
Rating: 4.7/5
Recommended for:
Internet security and privacy
AmazingThailand
Use the Tourism Authority Thailand app to help plan your holiday in Thailand with a list of recommended cities, sights, and attractions. Once you've settled on your must-sees, build an in-app itinerary to help plan your days in the Kingdom.
Rating: 3.9/5
Recommended for:
Preparing for your trip to Thailand? Check out my other articles that cover important things to consider before your travel: