The BTS Skytrain is one of the most convenient ways to transit around Bangkok to avoid traffic, get great city views, and connect with other transport hubs.
There are a few ways to pay for the BTS, including cash and single-use tickets, but the best way is to use the top-up Rabbit Card available for locals and tourists.
Avoid ticket office queues by simply topping up credit on your Rabbit Card at points around the city, then travel to your heart's content.
➡️ Ready to buy a Rabbit Card? Jump to my guide.
Contents
What is the Rabbit Card?
The Rabbit Card is primarily a top-up card to access the BTS transport system, but you can also use it to pay at restaurants, receive special promotions, and pay for the BRT bus service.
Payment with the Rabbit Card for other services around Thailand is possible through a Rabbit Card terminal found at supported merchants.
Rabbit has a rewards system that grants you points for using the card, which you can redeem for rewards, including free BTS trips.
Where Can I Buy a Rabbit Card?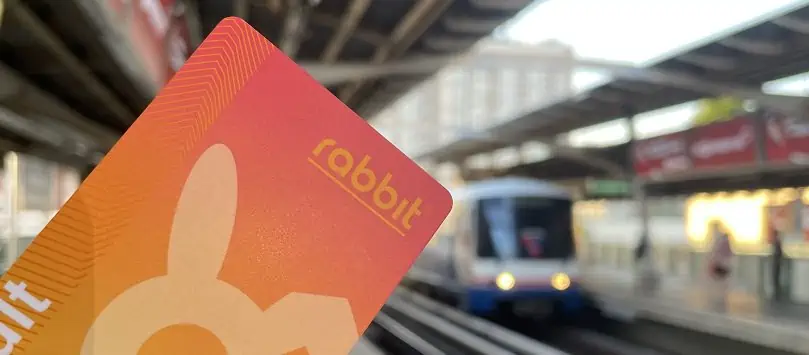 The Rabbit Card is available at BTS station ticketing booths, Klook (ideal for tourists), and if you have a Thai address from online stores like Lazada or Shopee.
A Rabbit Card costs at least 200 THB, which includes a 100 THB initial fee and a minimum of 100 THB trip credit.
Rabbit Card types
Adult
Student (full-time Thai students younger than 23)
Senior (Thai Citizens over 60)
So what about children? Children are exempt from BTS fares if their height is under 90 centimeters.
Where to buy?
BTS stations
Every BTS station in Bangkok has a fully staffed ticket booth where you can ask for a Rabbit Card. Most of the staff at these booths speak good English.
Klook (Bangkok airport pickup)
Tourists can pre-buy their Rabbit Card with Klook and pick up the card at the international airport (Suvarnabhumi). Klook has a booth at arrivals where you can collect your card or pick up your card at the Klook booth at Central World.

Wondering if Klook is a legit platform to book on? Check out my article.
Thai e-commerce website (Thai mailing address required)
If you're living in Thailand, popular local e-commerce sites Lazada and Shopee sell the Rabbit Card, where you can order and send it directly to your Thai mailing address.
/news
Where to top up Rabbit Card?
The Rabbit Card can be topped up with credit by cash only at BTS station ticket booths or with a credit card by using the Rabbit LINE Pay application.
If you add trips (15-50) to a Rabbit Card, payment is possible at BTS stations with either a credit card or cash.
How to top-up
Top up at BTS ticket office or on the Rabbit LINE Pay app
Add a minimum of 100 THB or a maximum of 4,000 THB credit
Required to register the Rabbit Card
When topping up your Rabbit Card for the first time, you'll be asked to register by providing a passport (tourist) as ID.
If you buy the Rabbit Card through Klook it's already loaded with 200 THB, so you'll only need to show your ID when adding any additional credit.
Want more FREE travel tips?
Unlock the secrets to a stress-free trip to Thailand with our FREE 5 essential travel tips. Sign up for our newsletter now and learn how to save time and money on your next adventure!
How much is the BTS?
The BTS fare depends line and distance traveled. The minimum fare on the Sukhumvit or Silom lines is 16 THB for a single stop, increasing per stop with a maximum fare price of 59 THB. Some introductory new BTS stations are free to travel between.
The BTS Gold Line to Icon Siam has a fixed adult rate of 15 THB per trip.
Check your total route price here.
What are Rabbit Card trips?
BTS Trips can be added to the Rabbit Card to make it more affordable when traveling longer distances. Entering and exiting a station counts as one trip deduction, so use it wisely to ensure you get the best value for money.
As a tourist, you could save when using trips if you intend on frequently using the BTS, but note that trips are non-refundable.
How much are Trips?
Trips (Adult)
| | | |
| --- | --- | --- |
| Trips | Price | Average cost per trip |
| 15 | 465 THB | 31 THB/trip |
| 25 | 725 THB | 29 THB/trip |
| 40 | 1,080 THB | 27 THB/trip |
| 50 | 1,300 THB | 26 THB/tip |
Trips (Student)
| | | |
| --- | --- | --- |
| Trips | Price | Average cost per trip |
| 15 | 360 THB | 24 THB/trip |
| 25 | 550 THB | 22 THB/trip |
| 40 | 800 THB | 20 THB/trip |
| 50 | 950 THB | 19 THB/tip |
*Prices are subject to change so check at a BTS station for the most up-to-date fares.
Rabbit Card validity, expiry, and refund
The Rabbit Card remains valid for seven years since the last top-up date. Any top-up credit on the card is valid for two years since the previous transaction (using the card).
Topup credit on the Rabbit Card is refundable up to 250 THB at BTS station ticketing offices.
Can I use Rabbit Card for MRT in Bangkok?
The Rabbit Card can't yet be used as a payment method on the underground MRT system.
The MRT has a unique payment card, and both companies have yet to agree on an integrated payment system.
Can I use the Rabbit Card on City Line Airport Rail Link?
The Rabbit Card, unfortunately, can't yet be used to pay for the City Line Airport Rail Link.
Rabbit Card balance
Balance on a Rabbit Card can be checked at the turnstiles at the train station, on the Rabbit Card application, at a BTS station ticket office, or at Rabbit payment terminals.
How to use the Rabbit Card
The Rabbit Card can be used to access the train at any BTS station by tapping the card on the entrance turnstiles.
The turnstiles have a screen showing your card balance and will indicate if your entry is granted by flashing green or red. A green light indicates that you can enter, and a red light indicates that you either don't have enough credit or your card has a fault. A minimum of 15 THB credit is required to access the station.
There are dedicated staff at each station for support if you have trouble accessing the turnstiles with your card.
Steps to using the Rabbit Card
Enter the station by tapping the Rabbit Card on the turnstiles at any BTS station
The turnstile will beep and show a green or red light indicating if you can enter
Check the turnstile screen to see the cards balance
Exit by tapping again at your destination station
Summary
The Rabbit top-up card is easily used to get around Bangkok on the BTS. Add credit to your card, then access any BTS station around the city.
The card can also be used as a payment method at vendors around the city through the Rabbit terminal.
Disclaimer – findyouthere.com is not a representative of Bangkok Smartcard System Company Limited. Check their website for the latest prices or services.
Preparing for your trip to Thailand? Check out my other articles that cover important things to consider before your travel: